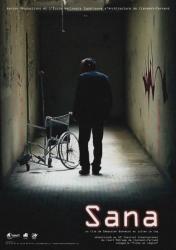 SANA is a 7-minute short film, written and directed by Julien Le Coq and Sébastien Bonnetot and produced by Ayrton Productions and the Ecole Nationale Supérieure d'Architecture de Clermont-Ferrand (Clermont-Ferrand School of Architecture).
SANA tells the story of a man lost inside a disused sanatorium. He is played by Sébastien Saint-Martin and in the film his character meets a mysterious lady, portrayed by Véronika Faure.
The film was shot in June 2010 and premiered on the 25 November at the Jetée, film resource centre in Clermont-Ferrand.
The homegrown film was selected for the Clermont-Ferrand Short Film Festival.